Where it all started- Harry Maguire started his career at Sheffield United. He was in the youth team until 2011 when he got his big break. With the Blades struggling against relegation Maguire was promoted into the first team. He made his debut as a half time sub at home v Cardiff City. Despite playing only 45 minutes the Yorkshire born defender was awarded man of the match. He went on to make four more appearances but couldn't save his team from falling into League One.
Maguire had cemented his place in the first team and quickly became a big part of it. On the opening day of the League One season he scored his first goal for Sheffield United in a 2-0 win v Oldham Athletic. Sheffield United went on to reach the play-off Final that season only to lose on penalties meaning they faced another season in League One.
Ups and downs – Maguire had signed a new deal in October to keep him at Brammal Lane until 2015. But other clubs had started to show an interest and in 2014 Maguire made the move to Premier League side Hull City for £2.5 million. He wouldn't make his Premier League debut until late December against Swansea City. Maguire would make just six appearances before being loaned out to Championship side Wigan Athletic. After impressing in his first few games his loan spell was extended until the end of the season. While on loan at Wigan Maguire's Hull were relegated back to the Championship after a disappointing season in the Premier League.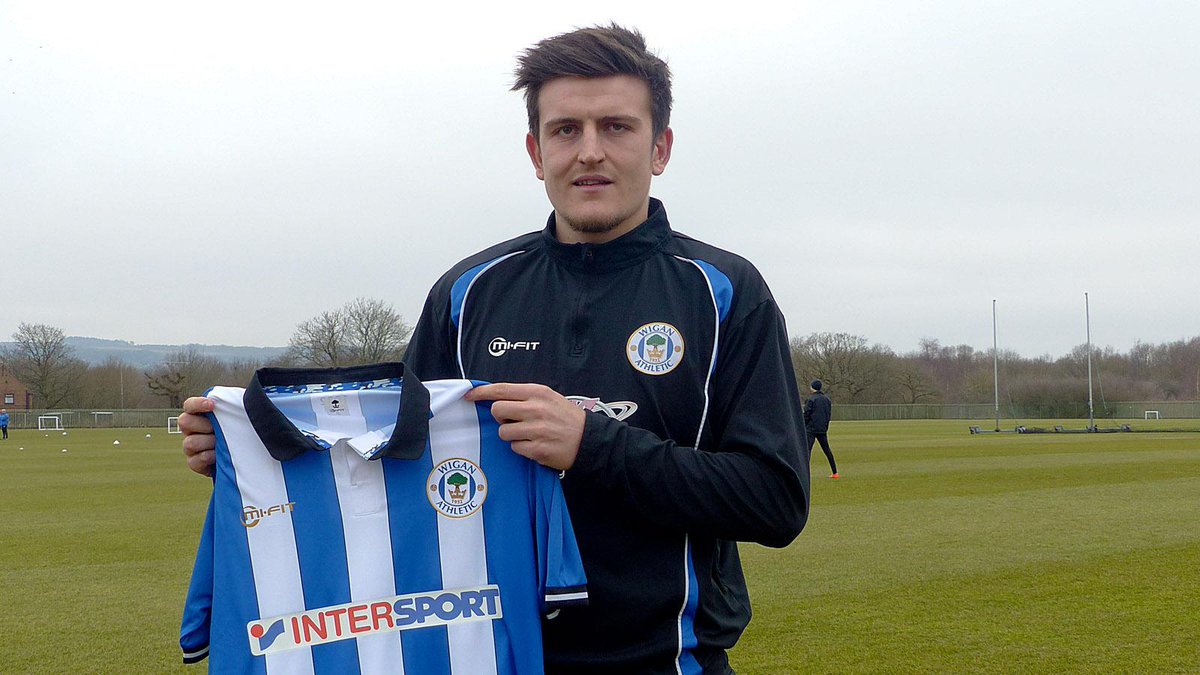 The next season Hull won promotion back to the Premier League with a 1-0 win over Sheffield Wednesday in the play-off final. Maguire played just one minute of the game replacing Mohamed Diame late on. Hull City boss Steve Bruce wasted no time in making Harry Maguire a first team regular. His first goal for Hull came in a 2-1 win against Bristol City in the EFL Cup. He went on to captain his side against Middlesbrough where he scored his first Premier League goal in a 4-2 win. Maguire was making a real impression.
The end of the season saw Hull once again relegated from the Premier League. But Maguire was voted Player of the Year by both fans and players. He'd made a real impression and been the shining light in what had been another disappointing Premier League campaign for the Tigers.
The next step – After his fine season Maguire had attracted interest from various Premier League clubs. On June 15th 2017, Maguire signed for Leicester City for a fee of £12 million which could potentially rise to £17 million with add-ons. He'd signed a five-year contract with the Foxes. Like always Leicester had done a wonderful piece of business in the transfer market.
Maguire's fine form had also earned him his first call up to the England team. Gareth Southgate included Maguire in his squad for the 2018 FIFA World Cup qualification matches. His debut came in a 1-0 win against Lithuania. His influence was growing on both the domestic and international stage.
He made his Leicester City debut in a 4-3 loss to Arsenal at the Emirates. But eight days later he scored his first Leicester goal against Brighton & Hove Albion in a 2-0 win. Maguire had took to life at Leicester with real ease and had become a fans favorite almost instantly. He played every minute of the 2017-18 season and at the clubs end of season awards picked up player of the season as well as players' player of the season.
Maguire's second season with the foxes was as good as his first. He played 31 out of 38 league games as Leicester finished 9th also reaching the League Cup Quarter-finals. Maguire had grown into a real leader on and off the pitch and he was setting a great example to all around him. Once again Maguire's performances had really caught the eye. The interest from Manchester United was to much to ignore and despite the claims from manager Claude Puel that Harry Maguire was staying put, I think everyone knew it was a matter of time before he was a Manchester United player.
Harry's big move – On the 11th of August 2019 Harry Maguire signed a six-year contract with Manchester United. Solskjaer spoke about Maguire in his pre-match press conference ahead of their Premier League opener with Chelsea.
"I'm delighted that we got Harry in," Ole told reporters. "He's going to be great for this club. He was my number one target, and of course it took some time, but it does sometimes take time.
"I, more or less, made my mind up when we played Leicester last season that if it's possible to get him we should try, because he's so composed on the ball and he gives the team another dimension."
Maguire was quickly made Manchester United captain. Although it was questioned by many media outlets and supporters, Solskjaer was adamant he'd made the right choice giving Maguire the armband.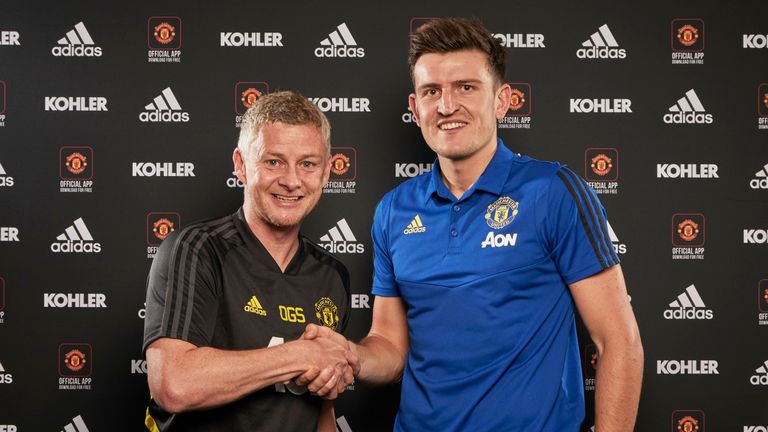 Maguire's debut couldn't of gone any better as his side beat Chelsea 4-0 in their Premier League opener. He went on to play every minute of United's Premier League campaign becoming the first player to do so since Gary Pallister in the 94/95 campaign.
Pallister speaking about Maguire on MUTV in July 2020 –
"I think he's terrific," Pallister told MUTV when asked about Maguire. "I think he's rightly got the captaincy; he's one of the talkers.
"He's not the type of leader that Bryan Robson, Steve Bruce and Roy Keane were, but I think he's got an assurance about him that the players respond to.
"I think, for his first season, he's been terrific. He's comfortable on the ball, you saw it on Sunday [in the 2-0 win at Leicester], getting his head to things when the balls are chucked into the box.
Attacking & defending – Harry Maguire is now three games into his third season at the club. Over the last two years he's got better and better and has really tightened up the United back four. His reading of the game is excellent and he's dominant in the air in both boxes. United have missed a presence like this since the days of Rio Ferdinand and Nemanja Vidić.
As good as he is defensively he's also extremely good at bringing the ball out from the back. This has been a part of Maguire's game since his Sheffield United days and it's clear to see it's something that comes naturally to him. Time and again over the last two years we've seen him bring the ball out and start attacks with his precise short passing.
Maguire playing out from the back has gave United a new dimension going forward. His range of passing is excellent. On many occasions we've seen him play long diagonal balls and more often than not he's got them spot on. (second image below). Finally after years without one United have a ball playing centre back.
Captaincy – When Harry Maguire was made Manchester United captain there were a lot of people questioning the decision. But he's took it in his stride and has been a telling influence on and off the pitch. He may not scream and shout like others before him such as Roy Keane and Wayne Rooney. But his leadership qualities are there for all to see and his influence on this Manchester United team has been exceptional.
The way he conducts himself is exactly what you expect from a Manchester United player and captain. His leadership qualities and professionalism is first class and he sets a great example to everyone at the club. There were question marks over the £80m transfer fee but I think it's safe to say he's been worth every penny.
Over the last two years Maguire's performances for both club and country have been exceptional. He's been a stand out performer nearly every week for United and his performances at the Euro's with England were excellent. Since his debut for United only Manchester City have kept more clean sheets. Of course there's flaws to his game but there's certainly more pro's than there is cons. United have a colossal of a defender on there hands and if they are to go on and win things you can bet Maguire will be a key part in that happening.